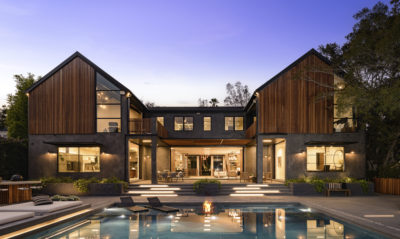 A Los Angeles Mansion With an In-Pool Fire Pit Asks $22.5 million
The house has multiple fire features, a waterwall and lava rock from Italy's Mount Vesuvius
By E.B. Solomont
Oct. 14, 2021
A Los Angeles spec mansion with 10 fire features—including a fire pit in the swimming pool that shoots off flames—is coming on the market for $22.5 million.
Located on the border of Holmby Hills and Bel-Air, the roughly 13,000-square-foot house was built by real-estate developer Oren Hayun for his family. The project was recently completed, but Mr. Hayun said he, his wife, Erin Hayun, and their two children never moved in. "Given the nature of the market," he said, "we're selling it."
In Los Angeles County, the inventory of available single-family homes above $5 million is down 30% year-over-year, according to Douglas Elliman. "There's pent-up demand in the buyer pool," said Douglas Elliman agent Marcy Roth, who has the listing with colleague Fredrik Eklund.
Mr. Hayun purchased the site for $3.74 million in 2017, records show.
Because he expected to live there himself, Mr. Hayun said, he amped up the design and amenities. The seven-bedroom house has a gym as well as indoor and outdoor theaters. The laundry room doubles as a pet spa, and the master bathroom has a roughly 620-pound, cast-iron tub. There are artist-commissioned light fixtures, imported from Greece and Spain, and a pass-through window between the kitchen and dining room has vintage chicken-wire glass.
In the kitchen, Mr. Hayun installed a custom Aga stove, and there are wireless chargers embedded in the kitchen island, which is made from a slab of live-edge walnut, he said. The master bedroom has a fireplace clad in hand-carved lava rock from Mount Vesuvius in Italy.
One of the home's key features is a three-story waterwall that flows from the top floor of the house to the basement.
The fire features include four fireplaces and six fire pits, including one in the pool that shoots off low flames from the water. The pool area also has an outdoor kitchen and a sunken dry lounge with a beer tap.
In the past, Mr. Hayun developed a roughly 10,000-square-foot house in Encino that he said he sold to singer Kelly Clarkson for $8.5 million in 2018, records show. Also in Encino, he built a 9,500-square-foot house that he sold for $6.4 million in 2017.
Appeared in the October 15, 2021, print edition as 'This L.A. Mansion Has a Flame-Throwing Pool.'